VII. Chakra Balancing

The sanskrit word "chakra" means "wheel," and dates back to ancient India and the Hindu Yogis between 1500 and 500 B.C. According to Hindu tradition, the chakras are wheels of light or energy centers running along the spine up to the top of the head where each chakra corresponds to a certain part of the body.

It is our chakras that sense energy, and serve to tell us about the world around us. When all seven chakras are balanced and spinning in harmony, at the same speed, the system runs smoothly as a single mechanism. Where there is dysfunction or blockage in one part of the system, it has an impact on all other parts. This malfunctioning can occur when we have negative thoughts and feelings on our mind. In addition, if we close any chakras, we do not let that information or people in. When we make our chakras flow the opposite direction, we send our energy out into the world.

It is important to balance your chakras otherwise you may become polarized, or stuck in areas of your life resulting in an imbalance. This is why we tend to repeat the same negative situations, scenarios and issues in our lives. Not until we learn how to unblock, balance and expand our chakras will we be out of the cycle of repeating the same challenging situations in our life. To balance the chakras, Sherry utilizes many energy healing techniques, crystals, color, sound & aromatherapy.
Chakra Functions
Below is an outline to help you recognize how distortions and blockages in each chakra relate to any problems you may be experiencing. (Please note that a person may experience one or more challenges listed for each category.)

TOO OPEN (chakra spins too fast and large)
BLOCKED (chakra spins sluggishly and small)


BALANCED (chakra maintains equilibrium and spins at correct vibrational speed)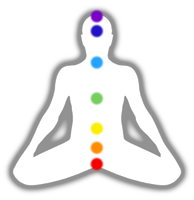 Location:
Base of spine

Frequency Color:

Musical Note:
C

Associated Gland:
Adrenals

Associated
Body Parts:

Bones, skeletal structure

TOO OPEN:
Bullying, overly materialistic, self-centered, engages in physical foolhardiness

BLOCKED:
Emotionally needy, low self-esteem, self-destructive behavior, fearful

BALANCED:
Demonstrates self-mastery, high physical energy, grounded, healthy

Emotional
Dysfunctions:

Mental lethargy, "spaciness," unfocused mind, incapable of stillness, difficulty achieving goals

Physical
Dysfunctions:

Osteoarthritis

Life Lesson:
Standing up for oneself

Main Issue:
Survival, physical needs

Goals:
Physical health & fitness, grounding, stability, security

Location:
Lower abdomen

Frequency Color:

Musical Note:
D

Associated Gland:
Ovaries/Testes

Associated
Body Parts:

Sex organs, bladder, circulatory system, prostate, womb

TOO OPEN:
Emotionally unbalanced, a fantasist, manipulative, sexually addictive

BLOCKED:
Oversensitive, hard on him/herself, feels guilty for no reason, frigid or impotent

BALANCED:
Trusting, expressive, attuned to his/her own feelings, creative

Emotional
Dysfunctions:

Unbalanced sex drive, instability, feelings of isolation

Physical
Dysfunctions:

Impotence, frigidity, bladder & prostate problems, lower back pain

Life Lesson:
Uncovering motivations influencing choices – based on conditioning

Main Issue:
Emotional balance/sexuality

Goals:
Allowing pleasure, creative expression

| | | |
| --- | --- | --- |
| | | 3rd. Chakra: Solar Plexus |

Location:
Stomach

Frequency Color:

Musical Note:
E

Associated Gland:
Pancreas

Associated
Body Parts:

Digestive system, muscles

TOO OPEN:
Angry, controlling, workaholic, judgmental and superior

BLOCKED:
Overly concerned with what others think, fearful of being alone, insecure, needs constant reassurance

BALANCED:
Respects self and others, has personal power, spontaneous, uninhibited

Emotional
Dysfunctions:

Need to be in control, oversensitive to criticism, addictive personality, aggressiveness, low self-esteem

Physical
Dysfunctions:

Stomach ulcers, fatigue, weight around stomach, allergies, diabetes

Life Lesson:
Self-esteem/self-confidence, the courage to take risks

Main Issue:
Personal power, self will

Goals:
Purpose, effectiveness, endurance, self-respect

| | | |
| --- | --- | --- |
| | | 4th. Chakra: Heart |

Location:
Center of Chest

Frequency Color:

Musical Note:
F

Associated Gland:
Thymus

Associated
Body Parts:

Heart, chest, lungs, circulation

TOO OPEN:
Possessive, loves conditionally, withholds emotionally "to punish," overly dramatic

BLOCKED:
Fears rejection, loves too much, feels unworthy to receive love, self-pitying

BALANCED:
Compassionate, loves unconditionally, nurturing, desires spiritual experience in lovemaking

Emotional
Dysfunctions:

Codependency, melancholy; fears concerning loneliness, commitment and/or betrayal

Physical
Dysfunctions:

Shallow breathing, high blood pressure, heart disease, cancer

Life Lesson:
Forgiveness and compassion for oneself and others

Main Issue:
Beliefs about love and relationships

Goals:
Balance, compassion & self-acceptance

| | | |
| --- | --- | --- |
| | | 5th. Chakra: Throat |

Location:
Neck

Frequency Color:

Musical Note:
G

Associated Gland:
Thyroid & Parathyroids

Associated
Body Parts:

Throat, ears, nose, teeth, mouth, neck

TOO OPEN:
Over-talkative, dogmatic, self-righteous, arrogant

BLOCKED:
Holds back from self-expression, unreliable, holds inconsistent views

BALANCED:
Good communicator, contented, finds it easy to meditate, artistically inspired

Emotional
Dysfunctions:

Perfectionism, inability to express emotions, blocked creativity

Physical
Dysfunctions:

Sore throats, neck ache, thyroid problems, hearing problems, tinnitus, asthma

Life Lesson:
The power of choice, personal expression

Main Issue:
Communication, self-expression

Goals:
Harmony with others, self-knowledge, creativity

| | | |
| --- | --- | --- |
| | | 6th. Chakra: Brow and Third Eye |

Location:
Forehead

Frequency Color:

Musical Note:
A

Associated Gland:
Pituitary

Associated
Body Parts:

Eyes, base of skull

TOO OPEN:
Highly logical, dogmatic, authoritarian, arrogant

BLOCKED:
Undisciplined, fears success, tendency toward schizophrenia, sets sights too low

BALANCED:
Charismatic, highly intuitive, not attached to material things, may experience unusual phenomena

Emotional
Dysfunctions:

Nightmares, learning difficulties, hallucinations

Physical
Dysfunctions:

Headaches, poor vision, neurological disturbances, glaucoma

Life Lesson:
Emotional intelligence

Main Issue:
Intuition, wisdom

Goals:
Ability to "see" other than with the eyes

Location:
Top of head

Frequency Color:

Musical Note:
B

Associated Gland:
Pineal

Associated
Body Parts:

Upper skull, cerebral cortex, skin

TOO OPEN:
Psychotic or manic depressive, confused sexual expression, frustrated, sense of unrealized power

BLOCKED:
Constantly exhausted, can't make decisions, no sense of "belonging"

BALANCED:
Magnetic personality, achieves "miracles" in life, transcendent, at peace with self

Emotional
Dysfunctions:

Depression, obsessional thinking, confusion

Physical
Dysfunctions:

Sensitivity to pollution, chronic exhaustion, epilepsy, Alzheimer's

Life Lesson:
Selflessness

Main Issue:
Spirituality, selflessness

Goals:
Expanded consciousness

Our bodies communicate
to us clearly & specifically,
if we are willing to listen. ~Shaki Gawain